Solving Your Financial Planning Puzzle
At some point, you've probably put a puzzle together. You open the box and dump the pieces on the table. At first, the task looks overwhelming. Then you realize that with a clear strategy and the picture on the puzzle box as your guide, you can do it!
If you're like most people, you not only have done this with a puzzle but also your financial life. Many people accumulate their financial puzzle pieces throughout their life without an organized way of managing it all. You might have a 401(k) still at your old job, a life insurance policy that you bought from a friend a long time ago, or even an IRA that you're contributing to and not sure why. The key here is that none of these financial instruments are "talking" to each other. A Financial Plan can help you put all of these pieces together.
If you've ever taken a road trip, you've most likely gathered several items before taking off. Putting gas in your car is a must. You could have checked the oil and prepared a playlist for the ride. Also, you might have remembered a spare tire, jumper cables, or a bit of food in case you got stuck. Whatever your preparations, one thing you wouldn't leave behind is a map or a GPS.
Financial planning is exactly that—your road map! It will help you get from where you are today to where you want to be tomorrow. Your fuel for your plan includes your investment and savings strategies. Your jumper cables are your insurance policies and other risk management strategies. A well-designed financial plan should help you navigate all of life's speed bumps.
So, what should your financial plan include? At a minimum, your plan should include the 6 key pieces to your financial planning puzzle. Those are: your current financial position, protection planning, investment planning, retirement planning, tax planning, and estate planning. Through our unique financial planning process, we work with you to help make sense of the role each piece plays in your specific situation.
Sign up for our eNewsletter and receive a free eBook with no obligation on Financial Planning! Click Here!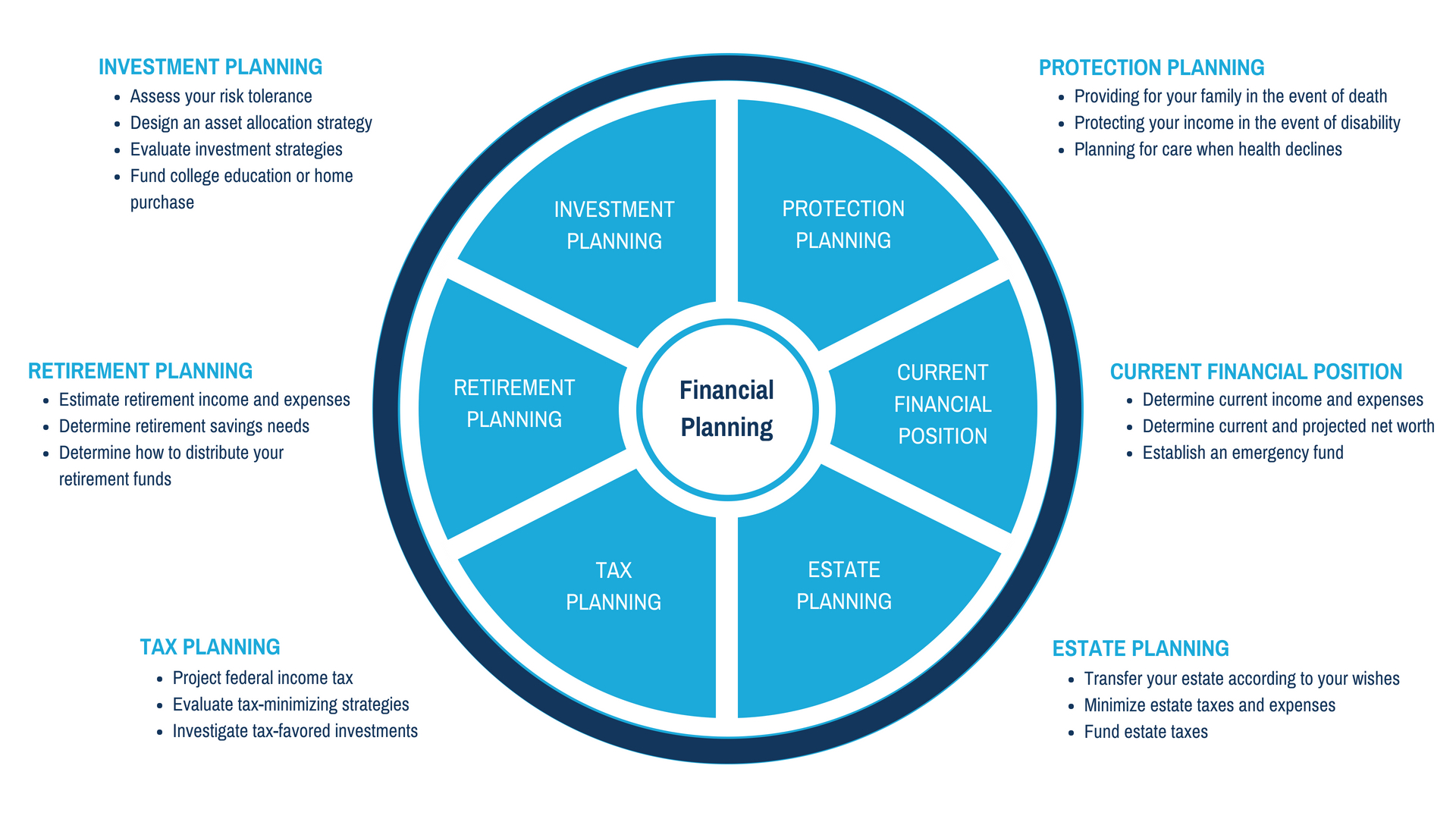 The Financial Planning Process
The financial planning process is integral to reaching your financial goals.

1. We'll begin with our Discovery Meeting. This is where we will establish our relationship and get to know you on a deeper level. We'll go beyond the numbers and dig deep into your values and vision of the future and how your finances can help fulfill those dreams. We'll discuss what's important to you about money and learn more about your specific financial goals and objectives.
We ask that you come prepared with your financial statements and important documents so that we can spend our time productively. Click here to download our Discovery Meeting Packet to begin the process. We'll review these items along with the notes from our conversation to begin to create your plan. 
2. From here we'll analyze the documents and data that we've received to generate a draft of the plan. At our Midpoint Meeting, we'll review what the plan is starting to look like, agree on assumptions used in our projections, and discuss some preliminary recommendations. We might even begin to implement some items.
3. Once we've tweaked the plan based on our midpoint discussion, we'll create the formal plan for us to review our Plan Delivery Meeting. We'll present our recommendations on how to get from where you are today to where you want to get to in the future. Together, we'll agree on a timetable for implementing your plan, assign responsibilities, and action items. Finally, we'll link you up to our eMoney Financial Planning software, so you'll have real-time access to your plan as it fluctuates.
4. After you've taken the plan home and digested the recommendations, and you've decided that you wish to implement the plan with us, we'll hold an Implementation Meeting to wrap our arms around the action steps. This is where the rubber meets the road. At this meeting, we may also bring in other industry professionals to consult with on your specific needs.
5. As we implement the plan together, we'll also schedule regular Review Meetings to monitor and evaluate progress toward your goals.
Keep in mind that financial planning is not a one-and-done process. It evolves with you. As you experience major life changes, the process may start over. We'll need to discuss new information and changes to your plan along the way. From there, we'll work together to create a new action plan.
Click here for Frequently Asked Questions (FAQs) on Financial Planning
So, let's begin by getting to know each other better. Contact me today to schedule a call with me and my team to see if it makes sense for us to work together and if so, in what capacity. This first meeting is on us, so let's get started!
Financial planning is a long-term process. A good financial plan may not address all your goals upfront but rather in stages or priorities. Your preferences will be factored into what's most important. Separate from the financial plan and our role as financial planner, we may recommend the purchase of specific investment or insurance products or accounts. These product recommendations are not part of the financial plan and you are under no obligation to follow them.